40 Under 40 M&A Advisor Recognition Awards 2014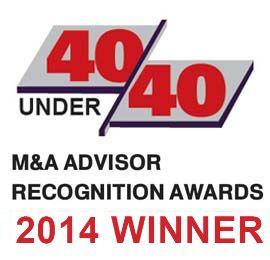 BOSTON, MA – April 30, 2014 – The M&A Advisor announced the winners of the 40 Under 40 M&A Advisor Recognition Awards on Wednesday, April 30.  Ms. Rebecca Leiba was named a winner for the Dealmaker category.
Ms. Leiba is the Senior Managing Director of Provident Healthcare Partners, LLC (Provident).  Ms. Leiba's experience combines over 17 years of investment banking expertise with practical knowledge of the inner-workings of corporations of all sizes.  Ms. Leiba is responsible for all due diligence coordination and presentation to the marketplace and orchestrates contact between buyers, clients, attorneys and CPAs during the final stages of the due diligence process.
Prior to joining Provident, Ms. Leiba worked as a Director for the investment banking firm Boston Bay Partners, LLC.  Ms. Leiba began her career in healthcare through her work at Cornell Medical Hospital, where she specialized in working with patients diagnosed with schizophrenia, bio-polar disorders, eating disorders, drug addiction and depression.  Ms. Leiba earned a Bachelor of Arts degree from Brandeis University, majoring in Biology, English and Pre-Medicine.
"The M&A Advisor Awards are renowned for their recognition of prominent M&A professionals and to be included with this prestigious group of individuals is extremely humbling.  I am very grateful and look forward to getting to know and working with the other nominees," commented Ms. Leiba.
The M&A Advisor, renowned globally for its recognition of leading M&A, financing and turnaround professionals, created this event to promote mentorship and professional development amongst the emerging business leaders.
Ms. Leiba has been chosen for her accomplishments and expertise from a pool of international nominees by an independent judging panel of distinguished business leaders.
"In 2010 we initiated the 40 Under 40 Awards to recognize the emerging leaders of the M&A, Financing and Turnaround industries" said David Fergusson, President of The M&A Advisor.  "It is our belief that this group of accomplished women and men will have a significant effect on the advancement of our industry.  And it is our great pleasure to recognize them and provide a forum for them to meet and engage with one another".
About Provident Healthcare Partners
Provident is the leading investment banking firm specializing in merger and acquisition advisory, strategic planning, and capital formation for middle-market and emerging growth healthcare service companies.  The firm has a vast network of high-level, senior industry contacts, a thorough knowledge of market sectors and specialties, and unsurpassed experience and insight into the M&A process.  Provident uncovers value and opportunities that others often overlook to create transaction premiums for its clients.  For additional information on Provident, please visit www.providenthp.com.
About the M&A Advisor
Since 1998, The M&A Advisor has been presenting, recognizing the achievement of and facilitating connections between the world's leading mergers and acquisitions, financing and turnaround professionals with a comprehensive range of services including M&A SUMMITS; M&A AWARDS; M&A CONNECTS™; M&A ALERTS™, M&A LINKS™ MandA.TV and M&A MARKET INTEL™.  Visit http://www.maadvisor.com to learn more.
Contact:
Provident Healthcare Partners
Boston, MA
Johanna Torres, Corporate Development
(617) 742-9800