Guest Spotlight – The Etherist Podcast, Season 2: Models and Mergers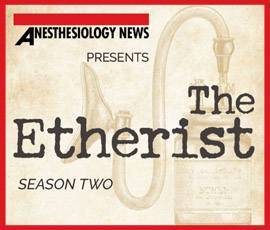 AJ Shekar was a guest speaker on Season Two Episode 2: Mergers and Models of The Etherist Podcast, presented by Anesthesiology News.
Episode Description: Anesthesiology is a specialty experiencing unique changes. On the one hand, there is debate over practice models and supervision rules. On the other hand, there is rapid consolidation of anesthesia practices across the United States.
These two issues are in addition to the potential crisis of a physician anesthesiologist shortage in the coming years. The question that we seek to answer in this episode of "Anesthesiology News presents The Etherist" is whether these issues will lead to positive or negative outcomes for the specialty, and more specifically for the role of physician anesthesiologists.
In episode 2, we ask how these large specialty-specific trends could shape the future of anesthesia care and the pending physician anesthesiologist shortage.
Listen to the episode here or on Spotify.
About Anesthesiology News
Anesthesiology News, now in its 46th year, has been the most widely read publication for the specialty for the last 23 years. All 50,935 anesthesiologists and anesthesiology residents in the United States receive a copy every month!
It offers extensive coverage of major scientific meetings affecting the specialty, feature articles on topics relevant to practicing anesthesiologists, in-depth clinical reviews written by thought leaders, practice management articles, medical education, as well as Special Editions, Buyer's Guides, and a full line of digital media, including the AnesthesiologyNews.com website, mobile site, e-Newsletters, and multimedia content.