Lowcountry Urology Clinics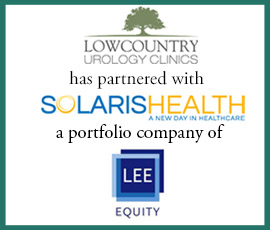 Provident Healthcare Partners ("Provident"), a leading healthcare investment banking firm, announced it has advised Lowcountry Urology Clinics in its affiliation with Solaris Health Holdings ("Solaris"), a portfolio company of Lee Equity Partners. Lowcountry Urology Clinics merged five individual Charleston urology practices in 2006 to provide a comprehensive, expert approach to urology for the entire Charleston area. The South Carolina urology leader will bring to Solaris the skills and talents of 13 providers who care for over 20,000 unique patients each year.
Provident's deal team was led by Managing Director Kevin Palamara. Husch Blackwell LLP served as legal counsel to Lowcountry Urology Clinics and Waller Lansden Dortch & Davis, LLP served as legal counsel to Solaris.
"In our search for an investment banking partner, we interviewed several potential firms.  From our first interview to the final day of closing, Provident gave us the confidence to navigate a system that we, as physicians, were unfamiliar with. Their representation of our practice was entirely in line with our goals, and their communication throughout the process was excellent.  Provident followed through on all their promises and were the perfect choice for us in this process.  I would highly recommend them to any group looking for investment banking advice," commented Dr. John J. Britton, President of Lowcountry Urology Clinics.
"The Provident team consists of personable, affable, and confident experts. They were always available for anything we needed including advice, discussion, direction, and support.  They have a deep level understanding in all aspects of the practice consolidation and private equity worlds.  We could not have asked for a more professional group to work with.  The entire team from beginning to end was outstanding," stated Dr. Scott Wingo, Shareholder of Lowcountry Urology.
"Congratulations to our friends at Lowcountry," noted Palamara. "As a mission driven provider of personalized urologic healthcare, they were the ideal entry point into the Carolinas region for Solaris.  We wish both sides nothing but success in their partnership."
"The cultural alignment of Lowcountry and Solaris was evident from the start, and we're excited for the growth in the Carolinas," added Dustin Thompson, Director at Provident Healthcare Partners.
About Lowcountry Urology Clinics
Specialists at Lowcountry Urology Clinics have years of experience providing the highest standard of care for women and men facing urinary and sexual disorders. The urology clinic has state-of-the-art technology to provide patients in Charleston, Mount Pleasant, North Charleston, Summerville and several surrounding cities the best urology care in the area. Visit www.lowcountryurology.com for more information.
About Solaris Health
Solaris Health is a leading national healthcare platform committed to enhancing access to specialty healthcare and continually improving patient outcomes. Empowering community providers allows Solaris to make sure that every decision made puts patient care at the forefront. Solaris is growing to meet the changing needs of the healthcare providers, and to develop innovative ways to better deliver value and state-of-the-art care to its patients. Solaris Health is proud to be among the most innovative medical organizations in the United States. Visit www.solarishealthpartners.com for more information.
About Provident Healthcare Partners
Provident is a leading healthcare investment banking firm specializing in merger and acquisition advisory, strategic planning, and capital formation services for healthcare companies. The firm has a comprehensive knowledge of market sectors and specialties, including urology. Provident also has unsurpassed experience and insight into the M&A process, which includes working with a multitude of investors such as private equity firms and strategic consolidators. For additional information, visit www.providenthp.com or follow Provident on LinkedIn.
Contact:
Provident Healthcare Partners
Gina Casiello
877-742-9800
gcasiello@providenthp.com
[holo_button icon="/wp-content/uploads/2023/02/Lowcountry-Urology-Clinics-PR.pdf" link=" color="#003561″ target="blank"]PRINT/DOWNLOAD[/holo_button]
<p style="text-align: center;">###</p>