Mid-Florida Cancer Centers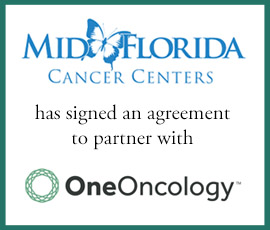 Provident Healthcare Partners ("Provident"), a leading healthcare investment banking firm, announced it has advised Mid-Florida Hematology and Oncology d/b/a Mid-Florida Cancer Centers ("MFCC") in signing a partnership agreement OneOncology. MFCC, which is led by Dr. Neeraj Sharma, has nine medical oncologists, two radiation oncologists, and a team of advanced practice providers caring for patients at four locations in the Greater Orlando market.
Provident's deal team is being led by Director Dustin Thompson.
"It's been a pleasure working with the Provident team. We are grateful for the expertise and experience that they provided, their professionalism and responsive approach has ultimately culminated in our partnership with One Oncology taking our Company to the next level and ensuring continued growth," noted Dr. Neeraj Sharma, President of Mid Florida Cancer Centers.
"We're excited to have had the opportunity to advise and guide Mid-Florida Cancer Centers through this transaction process. MFCC is a great fit as OneOncology's platform in the Central Florida market. The resources provided by OneOncology will help strengthen MFCC's position in the Orlando market and we wish both entities nothing but success in their partnership." added Dustin Thompson, Director at Provident Healthcare Partners.
About Mid-Florida Cancer Centers
Mid Florida Cancer Centers offers patients medical oncology, hematology, and radiation oncology services as well as the convenience of an in-office lab, oral pharmacy, and advanced medical imaging services, including PET/CT. MFCC intends to grow by attracting additional health care professionals to practice in the growing Central Florida market, while also expanding services into adjacent subspecialties. To learn more visit, www.midfloridacancercenters.com.
About OneOncology
OneOncology was founded by community oncologists, for community oncologists, with the mission of improving the lives of everyone living with cancer. The company's goal is to enable community oncology practices to remain independent and to improve patient access to care in their communities, all at a lower cost than in the hospital setting. OneOncology supports its platform of community oncology practices through group purchasing, operational optimization, practice growth, and clinical innovation. The company's 1,000 cancer care providers care for approximately 615,000 patients at more than 339 sites of care nationwide. To learn more, visit www.oneoncology.com or LinkedIn.
About Provident Healthcare Partners
Provident is a leading healthcare investment banking firm specializing in merger and acquisition advisory, strategic planning, and capital formation services for healthcare companies. The firm has a comprehensive knowledge of market sectors and specialties, including oncology. Provident also has unsurpassed experience and insight into the M&A process, which includes working with a multitude of investors such as private equity firms and strategic consolidators. For additional information, visit www.providenthp.com or follow Provident on LinkedIn.
Contact:
Provident Healthcare Partners
Gina Casiello
877-742-9800
gcasiello@providenthp.com
[holo_button icon="/wp-content/uploads/2023/11/MFCC-PR.pdf" link=" color="#003561″ target="blank"]PRINT/DOWNLOAD[/holo_button]