Pain Management Associates, Inc.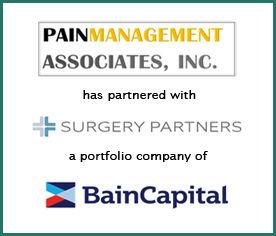 Pain Management Associates, Inc. and Interventional Spine Center, Inc. (collectively referred to as "Pain Management Associates" or "PMA"), have partnered with Surgery Partners, a portfolio company of Bain Capital. PMA is the leading provider of premium interventional pain management in Orange County, California and the surrounding communities. Provident Healthcare Partners ("Provident") served as exclusive financial advisor to Pain Management Associates. The terms of the transaction were not disclosed.
"Provident made the transaction go as smoothly as possible. It was a pleasure to work with the entire Provident team – each and every one of them are true professionals. We are grateful to have had them as an advisor in this process," noted Keyvan Zavarei M.D, Co-Founder of Pain Management Associates.
"Leveraging the resources of Surgery Partners and Bain Capital, Pain Management Associates will be well positioned to continue growing throughout the fragmented Southern California marketplace," commented Abe M'Bodj, Analyst at Provident Healthcare Partners.
About Pain Management Associates
Pain Management Associates provides care out of 5 locations in Anaheim, Fountain Valley, Irvine, Laguna Hills, and Long Beach, California, in addition to three wholly owned ambulatory surgery centers in Laguna Hills, Long Beach, and Anaheim. The centers are certified by Medicare / Accreditation Association for Ambulatory Health Care (AAAHC). For more information, visit http://pmaphysician.com/.
About Surgery Partners
Headquartered in Nashville, Tennessee, Surgery Partners is a leading healthcare services company with a differentiated outpatient delivery model focused on providing high quality, cost effective solutions for surgical and related ancillary care in support of both patients and physicians. Surgery Partners is one of the largest and fastest growing surgical services businesses in the country, with more than 180 locations in 32 states, including ambulatory surgical facilities, surgical hospitals, a diagnostic laboratory, multi-specialty physician practices and urgent care facilities. For more information, visit https://surgerypartners.com/.
About Provident Healthcare Partners
Provident is the leading investment banking firm specializing in merger and acquisition advisory, strategic planning, and capital formation for healthcare companies. The firm has a comprehensive knowledge of market sectors and specialties, and unsurpassed experience and insight into the M&A process. For more information, visit www.providenthp.com.
Contact:
Provident Healthcare Partners
Gina Casiello
617-742-9800
###
[holo_button icon="" link="/wp-content/uploads/2020/02/Pain-Management-Associates_PR.pdf" color="#003561″ target="blank"]PRINT/DOWNLOAD[/holo_button]