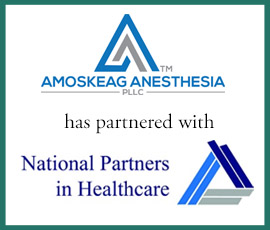 Provident Healthcare Partners ("Provident"), a leading healthcare investment banking firm, announced it has advised Amoskeag Anesthesia ("Amoskeag") in its partnership with National Partners in Healthcare ("NPH"). Amoskeag provides state-of-the-art anesthetic care and interventional pain management at 11 hospitals and ASCs throughout New Hampshire. The group consists of more than 90 providers including Board Certified Anesthesiologists, Pain Interventionalists, Certified Registered Nurse Anesthetists, and Nurse Practitioners.
Provident's deal team was led by Managing Director Michael Patton and Director AJ Shekar. Dykema Gossett PLLC served as legal counsel to Amoskeag Anesthesia and McGuireWoods LLP served as legal counsel to National Partners in Healthcare.
"The Provident team is exceptional. They got to know our practice over the course of the transaction and then found us the perfect partner. They were very responsive, and always willing to go the extra mile. Their primary concern was to achieve all our goals, and they always represented us in the most professional and expert manner," noted Joseph Hyatt, Partner at Amoskeag.
"It has been a pleasure working with the Provident team over the past year. Their professionalism, attention to detail, patience, and knowledge were exemplary and provided significant value to the process. No detail was overlooked. They were available 24/7 to address any questions or concerns. I would recommend highly and without reservation," added Syed Razvi, Managing Partner at Amoskeag.
"Amoskeag has become a trusted anesthesia provider to facilities, surgeons, and patients in New Hampshire due to its commitment to clinical excellence and efficiency. With NPH's expertise and resources, Amoskeag is well positioned to continue expanding throughout New England. It was a pleasure working with the Amoskeag team and we look forward to seeing the partnership prosper," stated Shekar.
"We are excited to officially announce the partnership between Amoskeag and NPH. Amoskeag established itself as a highly reputable anesthesia provider across New Hampshire with its focus on community, culture, and high-quality patient care. The transaction aligns Amoskeag with a partner that has deep experience supporting growth-oriented anesthesia practices. We look forward to the future success of the combined entities," commented Tommy Spiegel, Vice President at Provident.
About Amoskeag Anesthesia
Amoskeag Anesthesia is a thriving and expanding group that provides state-of-the-art anesthetic care and interventional pain management for its patients. Amoskeag's base of operations is located in Manchester, New Hampshire, but the company provides clinical services throughout the state. The sense of community in the group is unusually strong with Anesthesiologists, CRNAs, Nurse Practitioners, and administrative staff working efficiently together as colleagues. For more information, visit https://www.amoskeaganesthesia.com/.
About National Partners in Healthcare
NPH is a national healthcare organization delivering best-in-class anesthesiology services. NPH is dedicated to partnering with high quality anesthesiologists and CRNAs providing the expertise, resources, and long-term sustainable solutions to their medical practices. NPH's anesthesiology partners retain autonomy of their practice while collaborating with each NPH clinical team to achieve and deliver the highest quality patient care. For more information, visit www.nphllc.com.
About Provident Healthcare Partners
Provident is a leading healthcare investment banking firm specializing in merger and acquisition advisory, strategic planning, and capital formation services for healthcare companies. The firm has a comprehensive knowledge of market sectors and specialties, including anesthesia services. Provident also has unsurpassed experience and insight into the M&A process, which includes working with a multitude of investors such as private equity firms and strategic consolidators. For additional information, visit www.providenthp.com or follow Provident on LinkedIn.
Contact:
Provident Healthcare Partners
Gina Casiello
877-742-9800
gcasiello@providenthp.com
[holo_button icon="/wp-content/uploads/2023/11/Amoskeag-PR-.pdf" link=" color="#003561″ target="blank"]PRINT/DOWNLOAD[/holo_button]