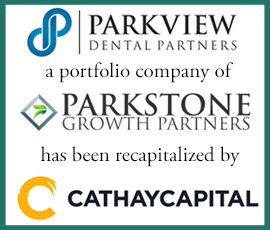 Provident Healthcare Partners ("Provident"), a leading healthcare investment banking firm, announced it has advised Parkview Dental Partners ("Parkview"), a portfolio company of Parkstone Growth Partners, on its partnership with Cathay Capital ("Cathay"). Parkview is a DSO that currently manages 22 dental practices throughout Southwest Florida that provide both general dentistry and specialty dental services. This investment is the inaugural North American investment from Cathay's Growth Private Equity Fund (Small Cap IV), which announced a final close in June 2023.
Provident's deal team was led by Managing Director Michael Patton, Director AJ Shekar, and Vice President Chris Schlesinger. Hill Ward Henderson served as legal counsel to Parkview and Haynes Boone served as legal counsel to Cathay Capital.
Lou Marinaccio, Managing Partner of Parkstone Growth Partners, commented, "It was a pleasure working with the Provident team and we are thrilled with Parkview's new partnership with Cathay. Provident ran an efficient process that provided the Company with multiple high-quality partnership options, and ultimately helped us identify and close with an investor who is well-positioned to support Parkview's next chapter of growth. The Provident team understood our goals and worked diligently to achieve a great outcome at every step of the process."
Mark Woods, Partner and Head of North American Private Equity at Cathay Capital, said "We are excited to partner with Parkview Dental Partners as it is uniquely positioned in the DSO market. It was a pleasure working with the Provident team on this transaction."
Ricky Roman, Director at Cathay Capital, added, "The Cathay team looks forward to leveraging our healthcare services and buy-and-build experience to accelerate the growth of Parkview as the Company seeks to expand on its market-leading position in Southwest Florida. We think highly of the Provident team and enjoyed working with them on this partnership-oriented deal."
"Will Schlotthauer, Dr. Ken Liszewski, and the Parkstone team have built a premiere DSO platform that has resonated with patients and providers in southwest Florida. Parkview is well positioned for rapid growth with the tools and financial backing Cathay brings to the partnership," commented Patton.
About Parkview Dental
Parkview is a dentist-founded dental growth & management partnership that is decidedly different from corporate DSOs. Based in Sarasota, Florida, its mission is to support likeminded dentists who want to focus on providing clinically excellent care and a great patient experience, while the company provides the highest level of operational support and opportunities for professional growth.  For more information visit: www.parkviewdp.com
About Cathay Capital
Cathay Capital is a global private equity and venture capital investment firm supporting healthcare, technology and consumer companies throughout North America, Europe, and Asia. The firm helps middle-market companies and startups navigate opportunities for growth, international expansion, and sustainable transformation. Founded in 2007 with a strong entrepreneurial heritage, Cathay Capital now manages more than $5.5 billion in assets. It has made over 250 investments in verticals including healthcare, technology, and consumer from offices in Paris, New York, San Francisco, Munich, Berlin, Madrid, Shanghai, Beijing, Shenzhen, and Singapore.  For more information, visit: www.cathaycapital.com.
 
About Provident Healthcare Partners
Provident is a leading healthcare investment banking firm specializing in merger and acquisition advisory, strategic planning, and capital formation services for healthcare companies. The firm has a comprehensive knowledge of market sectors and specialties, including dental services. Provident also has unsurpassed experience and insight into the M&A process, which includes working with a multitude of investors such as private equity firms and strategic consolidators. For additional information, visit www.providenthp.com or follow Provident on LinkedIn.
Contact:
Provident Healthcare Partners
Gina Casiello
877-742-9800
gcasiello@providenthp.com
[holo_button icon="/wp-content/uploads/2023/11/Parkview-Dental-PR.pdf" link=" color="#003561″ target="blank"]PRINT/DOWNLOAD[/holo_button]