Blair Gastroenterology Associates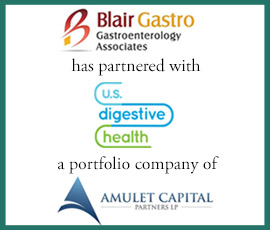 Provident Healthcare Partners ("Provident"), a leading healthcare investment banking firm, announced it has advised Blair Gastroenterology Associates ("BGA") in its partnership with US Digestive Health ("USDH"), backed by Amulet Capital. BGA's seven physicians and 14 APPs provide a full range of gastroenterology services through its two office locations and surgery center in central Pennsylvania.
Provident's deal team was led by Managing Director Eric Major and Director Dustin Thompson. McNees Wallace & Nurick served as legal counsel to Blair Gastro and Sheppard Mullin served as legal counsel to USDH. The terms of the transaction were not disclosed.
"We are thrilled to partner with USDH, the leading GI practice in the Northeast and one of the largest in the country. With the current pressures facing independent medical practices, we wanted to strategically align with a group that shared our vision of focusing on patient care while continuing to innovate and grow. To accomplish such an important transaction, we relied on the expertise of Provident. With their guidance, we were able to navigate through the complex process required to complete a partnership of this size. Provident's team saw our vision and was steadfast in ensuring that we found the right partner and were well educated throughout the entire process. Provident's expertise was obvious from the onset. We can confidently say that this partnership would not have been possible without their guidance," stated Dr. Mitul Patel, Physician Partner at Blair Gastroenterology Associates.
"We are excited to have guided BGA in its strategic alignment with USDH. Both organizations share a dedication to quality patient care and outcomes, and we look forward to seeing the group's continued expansion in Central Pennsylvania," stated Thompson.
About Blair Gastroenterology Associates
Blair Gastroenterology Associates, established in 1980, consists of a team of highly skilled physicians specializing in disorders and diseases of the digestive system, which include the Esophagus, Stomach, Small Intestine, Colon, Gallbladder, Liver and Pancreas. Today Blair Gastro has over 100 employees including seven board certified gastroenterologists. Visit https://blairgastro.com/ for more information.
About US Digestive Health
US Digestive Health (USDH) is the leading gastroenterology practice in the Northeast and one of the largest in the United States, managed by US Digestive Health Management (USDHM).
USDH and USDHM were formed in 2019 by Amulet Capital Partners, LP ("Amulet"), a healthcare private equity investment firm based in Greenwich, Connecticut, in partnership with member practice partner physicians.
USDH aims to deliver high-value, patient-centric digestive healthcare by bringing new insight into the care, treatment, and prevention of digestive health disorders. USDH consists of more than 33 locations, 19 ambulatory surgery centers, over 225 GI providers, and more than 1100 employees throughout Southeastern, Central, and Southwestern Pennsylvania, and Delaware. Visit https://usdigestivehealth.com/ for more information.
About Provident Healthcare Partners
Provident is a leading healthcare investment banking firm specializing in merger and acquisition advisory, strategic planning, and capital formation services for healthcare companies. The firm has a comprehensive knowledge of market sectors and specialties, including gastroenterology. Provident also has unsurpassed experience and insight into the M&A process, which includes working with a multitude of investors such as private equity firms and strategic consolidators. For additional information, visit www.providenthp.com or follow on LinkedIn.
Contact:
Provident Healthcare Partners
Gina Casiello
877-742-9800
gcasiello@providenthp.com
###
[holo_button icon="/wp-content/uploads/2023/08/BGA-PR.pdf" link=" color="#003561″ target="blank"]PRINT/DOWNLOAD[/holo_button]