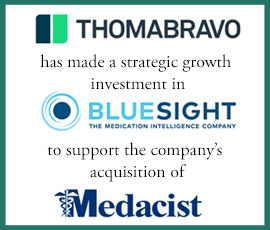 Provident Healthcare Partners("Provident"),a leading healthcare investment banking firm, announced it acted as the exclusive financial adviser to Medacist Solutions Group in its acquisition by Bluesight, the Medication Intelligence™ Company. The acquisition by Bluesight is the result of a strategic growth investment by Thoma Bravo, a leading software investment firm.
Bluesight's acquisition of Medacist combines a pioneer, lead innovator, and market leader in drug diversion analytics with a medication management solutions platform that together will serve more than 2,000 hospitals across North America. Bluesight's advanced auditing capabilities and visibility across all hospital care areas complements Medacist's streamlined reporting and visibility tools across the health system. Healthcare organizations will have a single source of software solutions that provides insights into medication usage and diversion to allow for the most accurate predictions, targeted interventions and, ultimately, improved patient outcomes.
Provident's deal team was led by Managing Director Michael Patton. Robinson & Cole LLP served as legal counsel to Medacist and Taft, Stettinius and Hollister LLP served as legal counsel to Bluesight.
"We interviewed several financial advisors to represent us in the sale of our business, and based on the great outcome, we confirmed that our choice for having Provident represent us was the right one. We were very competently represented and guided by Provident. They understood our goals and the landscape of our unique healthcare analytics sector, ultimately bringing us together with an ideal partner. We are very appreciative of their skills, knowledge, and personal touch throughout the process," commented Dave Brzozowski, Founder and CEO of Medacist.
"I enjoyed working with the Brzozowskis throughout this process and wish them, Thoma Bravo, and Bluesight nothing but the best moving forward. The combined platform is a leading provider of drug diversion and medication management solutions and is poised for significant growth both organically and through M&A," commented Rich Sciretta, Vice President at Provident.
About Medacist
Medacist is a pioneer and leading innovator in drug diversion analytics. The company applies artificial intelligence (AI), machine learning and data analytics to clients' data in order to pinpoint unusual patterns throughout the lifecycle of drugs— from procurement to storage and management in a clinical pharmacy, to prescription and dispensation by doctors and nurses, to administration to the patient. Thousands of hospitals across the U.S. have relied on Medacist's RxAuditor analytics suite to ensure regulatory compliance, reduce liability, and ensure patient safety. Visit https://medacist.com/ for more information.
About Bluesight
Bluesight solves supply chain inefficiencies and reduces risk by using AI and machine learning to surface actionable analytics for every step of the medication lifecycle. Through our suite of Medication Intelligence™ solutions, Bluesight brings simplicity, visibility, and predictability to the complex world of medication management. More than 1,000 U.S. and Canadian hospitals utilize Bluesight solutions to optimize their hospital's pharmacy practices by improving efficiency, reducing medication costs, and increasing compliance and safety. Visit https://bluesight.com/ for more information.
About Thoma Bravo
Thoma Bravo is one of the largest software investors in the world, with more than US$127 billion in assets under management as of March 31, 2023. Through its private equity, growth equity and credit strategies, the firm invests in growth-oriented, innovative companies operating in the software and technology sectors. Leveraging Thoma Bravo's deep sector expertise and strategic and operational capabilities, the firm collaborates with its portfolio companies to implement operating best practices and drive growth initiatives. Visit https://www.thomabravo.com/ for more information.
About Provident Healthcare Partners
Provident is a leading healthcare investment banking firm specializing in merger and acquisition advisory, strategic planning, and capital formation services for healthcare companies. The firm has a comprehensive knowledge of market sectors and specialties, including Healthcare IT. Provident also has unsurpassed experience and insight into the M&A process, which includes working with a multitude of investors such as private equity firms and strategic consolidators. For additional information, visit www.providenthp.com or follow Provident on LinkedIn.
Contact:
Provident Healthcare Partners
Gina Casiello
877-742-9800
gcasiello@providenthp.com
[holo_button icon="/wp-content/uploads/2023/08/Medacist-PR-.pdf" link=" color="#003561″ target="blank"]PRINT/DOWNLOAD[/holo_button]