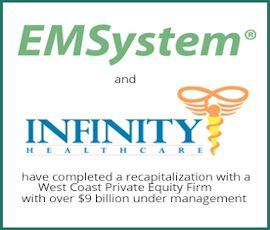 (BUSINESS WIRE) – Milwaukee-based EMSystem, LLC and Infinity HealthCare have completed a recapitalization of EMSystem today with a West Coast Private Equity Firm with over $9 billion under management. Provident Healthcare Partners acted as exclusive financial advisor to EMSystem, LLC.
"We are excited about our momentum and future growth prospects," said Andy Nunemaker, chief executive officer of EMSystem. "We have an aggressive growth strategy, and we are confident we can realize our ambitious goals as a Company. We are also excited that the recapitalization structure allows our employees to take part in the Company's financial success."
Nunemaker said the angel investors played significant roles in growing the Company over the past three years. "We could never have achieved such successful results without their knowledge and expertise. Our board members and investors were always willing to help in every aspect of the business," Nunemaker said.
EMSystem, LLC underwent its first round of financing in May 2004, when Infinity HealthCare offered to sell voting control to members of the Marquette Golden Angels Network. Since that time, the Company's revenues have increased 700 percent, and its earnings have increased more than 1,000 percent.
"The Golden Angels investors are very pleased with Andy's leadership of the whole EMSystem team," said Tim Keane, director of the Marquette Golden Angels Network. "We are delighted to see the Company prosper and are grateful for the opportunity to participate." The Golden Angels network, with 80 members in Milwaukee and Chicago, invests in early and seed stage companies with substantial growth prospects.
"This transaction enabled the Marquette University Golden Angels Network and Infinity HealthCare realize a very favorable return on investment, and at the same time, gave operating management an opportunity to acquire a significant equity position going forward" said Bob Ciardi, Managing Partner of Provident Healthcare Partners. "It was a true win-win transaction."
Financial terms of the acquisition were not disclosed. EMSystem was a winner of an SBT Bravo! Entrepreneur Award in 2006.
About EMSystem, LLC
EMSystem is a leading provider of real-time communications and resource management solutions that enhance preparedness and response to medical emergencies, mass casualty events, and public health incidents. The company provides emergency department status tracking, patient tracking, mass casualty incident support, syndromic surveillance, hospital bed tracking, credentialing and public health alerting solutions. EMSystem, which is based 135 S. 84th St. in the Honey Creek Corporate Center, has 25 employees.
About Provident Healthcare Partners, LLC
Provident Healthcare Partners, LLC is a Boston-based investment banking firm specializing in the healthcare industry. The firm is comprised of senior-level healthcare and corporate finance professionals with in-depth knowledge and extensive transaction experience in all healthcare fields. The firm has successfully completed merger and acquisition transactions with companies operating in all verticals of the healthcare industry. www.providenthp.com
Contact:
Provident Healthcare Partners, LLC
Boston, MA
Gina Casiello, Corporate Marketing & Communications
617-742-9800
###
[holo_button icon="" link="/wp-content/uploads/2015/03/EMSystem-Press-Release.pdf" color="#003561″ target="blank"]PRINT/DOWNLOAD[/holo_button]