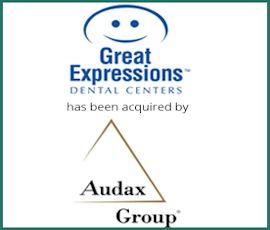 BOSTON, MA — Audax Group announced it has completed the acquisition of Great Expressions Dental Centers ("GEDC") from Dr. Walter Knysz, who founded the company in 1982. Headquartered in Bloomfield Hills, Michigan, with 98 affiliated practices in Michigan, Georgia, Florida, Massachusetts, Ohio, Virginia and Connecticut, GEDC is a dental practice management company providing services to professional corporations in general and specialty services including endodontics, orthodontics, oral surgery, pedodontics, and periodontics. Richard Beckman, Chief Executive Officer of GEDC, will continue to lead the management team along with Dr. Walter Knysz, Chairman of GEDC.
Geoffrey S. Rehnert, Co-CEO of Audax Group, said "GEDC is a scale player in a fragmented industry with exceptional patient and employee satisfaction. We look forward to working with Richard and his team to grow the business by sharing best practices across the company and executing strategic add-on acquisitions."
Richard Beckman, Chief Executive Officer of GEDC, said "We are excited to be working with Audax Group. Their experience sourcing and integrating add-on acquisitions will be a valuable asset for us as we continue to grow our company."
Ropes & Gray LLP advised Audax Group. Provident Healthcare Partners, LLC advised GEDC. GMAC Commercial Finance provided debt financing to support the transaction.
About Audax Group
Audax Group, founded in 1999, is a leading investor in middle market companies. With offices in Boston and New York, Audax manages in excess of $4 billion of equity, mezzanine debt, and senior loan capital. For more information visit the Audax Group website www.audaxgroup.com
About Provident Healthcare Partners, LLC
Provident Healthcare Partners, LLC is a Boston-based investment banking firm specializing in the healthcare industry. The firm is comprised of senior-level healthcare and corporate finance professionals with in-depth knowledge and extensive transaction experience in all healthcare fields. The firm has successfully completed merger and acquisition transactions with companies operating in all sectors of the healthcare industry. www.providenthp.com
Contact:
Provident Healthcare Partners, LLC
Boston, MA
Rebecca Leiba, Senior Managing Director
617-742-9800
###
[holo_button icon="" link="/wp-content/uploads/2015/03/GEDC-Press-Release.pdf" color="#003561″ target="blank"]PRINT/DOWNLOAD[/holo_button]