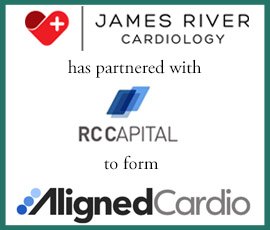 Provident Healthcare Partners ("Provident"), a leading healthcare investment banking firm, announced it has advised James River Cardiology ("JRC") in its partnership with RC Capital ("RCC") to form Aligned Cardiovascular Partners ("AlignedCardio"). James River Cardiology's eight doctors and 17 total providers operate across six clinics and an Office-Based Lab in the greater Richmond, Virginia market.
Provident's deal team was led by Managing Director Eric Major and Director Ajeya Shekar. Kaufman & Canoles served as legal counsel to James River Cardiology and McDermott, Will, and Emery served as legal counsel to RC Capital.
"The Provident team was instrumental in our partnership with RC Capital, through their in-depth understanding of cardiology physician services and years of transaction experience.  Provident spent time to thoroughly understand our business and objectives and introduced us to RC Capital as the ideal partner with a shared vision for the future of cardiology.  We are grateful for their guidance and assistance throughout the process," commented Dr. Mitesh Amin, founder of James River Cardiology.
"We're excited to officially announce the partnership between James River Cardiology and RC Capital to form a new platform in the specialty. Founded by Dr. Amin, JRC is led by a group of entrepreneurial physicians who have built the organization into a highly reputable provider of quality comprehensive cardiovascular patient care across the greater Richmond market," commented Major.  "This transaction aligns JRC with a partner that has deep experience supporting growth-oriented provider-based healthcare companies.  We look forward to following the organization's success in this new chapter."
About James River Cardiology
James River Cardiology is a full-service cardiology practice serving Richmond and the Tri-Cities region, as well as several rural locations along the southern border of Virginia through six locations. James River Cardiology was founded in 2010 by Dr. Mitesh Amin. Visit https://www.jamesrivercardiology.com/ to learn more.
About RC Capital
RCC is a healthcare-focused growth equity firm that partners with high‐potential healthcare companies, healthcare executives and clinicians. The company is dedicated to investing on the right side of healthcare, building companies that enable clinicians to improve the delivery of care and advance the experiences and outcomes for patients everywhere. RCC seeks to be a business partner first and a capital provider second, leveraging a network of deep healthcare relationships assembled over its 29‐year operating history. Visit www.rccapital.com for more information.
About Aligned Cardio
Founded in 2023, AlignedCardio is a leading partner and support services network for cardiovascular physician practices that are interested in driving growth and innovation in cardiovascular care. AlignedCardio's mission is to deliver innovative cardiovascular care and combining the highest quality patient care and provider satisfaction together with payer objectives.
About Provident Healthcare Partners
Provident is a leading healthcare investment banking firm specializing in merger and acquisition advisory, strategic planning, and capital formation services for healthcare companies. The firm has a comprehensive knowledge of market sectors and specialties, including cardiology. Provident also has unsurpassed experience and insight into the M&A process, which includes working with a multitude of investors such as private equity firms and strategic consolidators. For additional information, visit www.providenthp.com or follow Provident on LinkedIn.
Contact:
Provident Healthcare Partners
Gina Casiello
877-742-9800
gcasiello@providenthp.com
[holo_button icon="/wp-content/uploads/2023/05/James-River-Cardiology.pdf" link=" color="#003561″ target="blank"]PRINT/DOWNLOAD[/holo_button]
<p style="text-align: center;"></p>