Nightingale Services, Infusion, and Pharmacy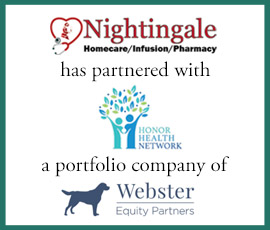 Provident Healthcare Partners ("Provident"), a leading healthcare investment banking firm, announced it has advised Nightingale Services, Infusion, and Pharmacy ("Nightingale") in its partnership with Honor Health Network, a portfolio company of Webster Equity Partners. Nightingale is a leading provider of home care services in Georgia, offering personal care, skilled nursing, infusion, and pharmacy services. Nightingale operates 11 locations across Georgia and services patients in all 159 counties.  The transaction represents Honor's first acquisition into the Southeast region and its seventh affiliated state.
Provident's deal team was led by Managing Director Kevin Palamara and Vice President Jake Vesely. Bouhan Falligant served as legal counsel to Nightingale and Goodwin Procter served as legal counsel to Honor Health Network.
"It has been a privilege to represent Heather, Brooke, and the entire Nightingale team in completing this transaction with Honor Health Network. Nightingale serves as a pivotal entry point for Honor to expand its offerings into the southeast. Together, the companies will continue to provide best-in-class home care services to patients in all 159 counties of Georgia and beyond," commented Vesely.
About Nightingale Services & its related entities
Nightingale is a comprehensive home care provider which has been serving Georgia since its inception in 1987. The Company offers skilled nursing, infusion services, pharmacy, structured family care, and personal care services to all 159 counties in Georgia and is led by  Brooke Hatala (and formerly led by Brooke's mother Heather Kaeser). Visit https://www.nightingaleprivatehomecare.com/ to learn more.
About Honor Health Network
Honor Health Network is a leading provider of home-based personal care services ("PCS") to the Medicaid population in the northeast. The company offers tailored personal and post-acute home care services along with housekeeping services, skilled nursing, physical therapy, speech therapy, and occupational therapy to patients and their families across New York, Massachusetts, Pennsylvania, New Jersey, Maryland, and Washington DC. Visit www.honorhealthnetwork.com for more information.
About Provident Healthcare Partners
Provident is a leading healthcare investment banking firm specializing in merger and acquisition advisory, strategic planning, and capital formation services for healthcare companies. The firm has a comprehensive knowledge of all healthcare services subsectors, including personal care, home health, and hospice. Provident also has unsurpassed experience and insight into the M&A process, which includes working with a multitude of investors such as private equity firms and strategic consolidators. For additional information, visit www.providenthp.com or follow Provident on LinkedIn.
Contact:
Provident Healthcare Partners
Gina Casiello
877-742-9800
gcasiello@providenthp.com
[holo_button icon="/wp-content/uploads/2023/10/Nightingale-PR.pdf" link=" color="#003561″ target="blank"]PRINT/DOWNLOAD[/holo_button]