BOSTON, MA – (BUSINESS WIRE) – Omnicare, Inc. (NYSE:OCR), one of the nation's leading providers of pharmaceutical care for the elderly, today announced the acquisition of specialty pharmaceutical services provider, Advanced Care Scripts, Inc.
Based in Orlando, Florida, Advanced Care Scripts provides both specialty pharmacy and product support services for the pharmaceutical and biotechnology industries. Its specialty pharmacy operations dispense high-cost oral and injectable medications directly to patients and provide a range of related clinical and administrative services. Its product support services division provides pharmaceutical and biotechnology companies with a range of services, including reimbursement support, compliance monitoring, patient assistance programs and data management. Advanced Care Scripts' business is focused currently on disease states within neurology and oncology.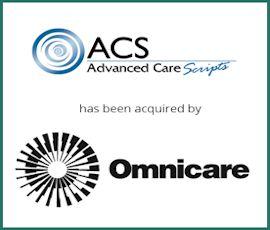 Based on the quarter ended March 31, 2008, Advanced Care Scripts' revenues are running at an annualized rate of approximately $212 million. The transaction is expected to be modestly accretive to Omnicare's earnings in 2008, with accretion expected to increase in 2009 and beyond.
"The acquisition of Advanced Care Scripts is squarely in line with our strategy of broadening Omnicare's platform through the addition of high-growth businesses as it enhances Omnicare's position in specialty pharmaceutical services ― one of the fastest growing sectors in pharmaceutical care," said Joel F. Gemunder, president and chief executive officer of Omnicare. "Advanced Care Scripts has a great track record as an innovative and rapidly growing business built on a strong foundation of high-quality patient care. Moreover, Advanced Care Scripts both complements and widens the scope of our existing specialty pharmaceutical business, allowing us to provide greater service offerings and expand our client relationships with pharmaceutical and biotechnology companies, as well as to enhance our ability to provide greater access to drug therapy."
"We are looking forward to the continued growth of our core services as well as the broadening of our business with new and innovative services made possible by joining Omnicare," said Jeffrey Spafford, president of Advanced Care Scripts. "By pooling our experience and expertise with Omnicare's resources and commitment to this business, we see even greater opportunities for both companies to expand specialty pharmaceutical services for manufacturers, providers and patients."
About Advanced Care Scripts, Inc.
Advanced Care Scripts, Inc. (ACS) is an independently owned and operated company that has quickly become one of the most respected pharmaceutical services providers in the country. With extensive experience in partnering with biotech pharmaceutical manufacturers for the management and dispensing of specialty medications and oral oncology products, ACS is at the forefront of the industry in the development of leading edge products and services for manufacturers that have medications for patients requiring complex therapies. For more information, visit the company's Web site at www.advancedcarescripts.com.
About Omnicare, Inc.
Omnicare, Inc. (NYSE:OCR – News), a Fortune 500 company based in Covington, Kentucky, is a leading provider of pharmaceutical care for the elderly. Omnicare serves residents in long-term care facilities, chronic care and other settings comprising more than 1.4 million beds in 47 states, the District of Columbia and Canada. Omnicare is the largest U.S. provider of professional pharmacy, related consulting and data management services for skilled nursing, assisted living and other institutional healthcare providers as well as for hospice patients in homecare and other settings. Omnicare's pharmacy services also include distribution and patient assistance services for specialty pharmaceuticals. Omnicare offers clinical research services for the pharmaceutical and biotechnology industries in 30 countries worldwide. For more information, visit the company's Web site at www.omnicare.com.
About Provident Healthcare Partners, LLC
Provident Healthcare Partners, LLC is a Boston-based investment banking firm specializing in the healthcare industry. The firm is comprised of senior-level healthcare and corporate finance professionals with in-depth knowledge and extensive transaction experience in all healthcare fields. The firm has successfully completed merger and acquisition transactions with companies operating in all sectors of the healthcare industry. For more information, visit the company's Web site at www.providenthp.com.
Contact:
Provident Healthcare Partners, LLC
Boston, MA
Rebecca Leiba
Senior Managing Director
(617) 742-9800
###
[holo_button icon="" link="/wp-content/uploads/2015/03/ACS-Press-Release.pdf" color="#003561″ target="blank"]PRINT/DOWNLOAD[/holo_button]